On Nov 2nd, please vote for:
Please vote for these endorsed candidates instead of following either political party's official endorsement slate.
Why Support These 4 Candidates?
LC wants to build 600 residential units on the former UMCH site (the large, long-vacant property across from City Hall). These 4 Council candidates are prepared to listen to the 1,400+ Worthington residents who have already signed a petition asking City Council to consider and advocate for an alternative development vision: a true mixed-use development with commercial & retail, modest housing, and significant green space.
We believe that these 4 candidates are the only 4 candidates prepared to both listen to the community feedback on this important issue, and work hard to bring it to reality.
Thankfully, the Municipal Planning Commission recently denied LC's application to rezone much of the property, which would have allowed LC's development plans to move forward in the middle of an election cycle. We would like to sincerely thank all MPC members for their strength of character in defending Worthington against an apartment developer who has repeatedly demonstrated an unwillingness to listen to MPC's direct feedback and feedback from the community, overall.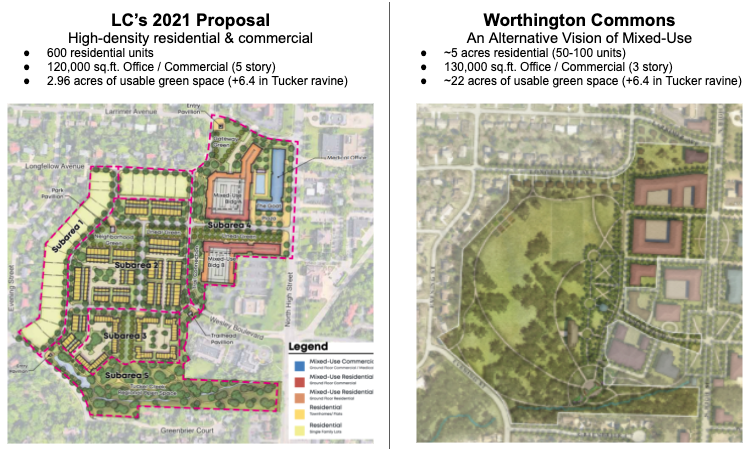 If you haven't read our 2020 Conceptual Development Proposal, please give it a read.
Core tenants of our vision are:
City Ownership of the property and creative process (but not the developer)
Class A commercial along high street, supporting the vision of the "Worthington Mile" and generating tax revenue to help offset the cost of future development of a 'Worthington Commons' (developed over time with resident input)
Preservation of irreplaceable green space for Worthington's first signature commons (positioned between new residential and new commercial buildings)
Avoidance of over-burdening of our school system and roads with the congestion that comes from 600 residencies & 900-1,200 new vehicles, jammed into a 30 acre development.